5 Advantages of a Photoscreener Monthly Subscription
Apr 20, 2023, By: GoCheck Kids Marketing
The business of healthcare is challenging for large and small organizations alike. Cash flow and capital
investments are usually ongoing concerns. Receivables like insurance payments and patient out-of-pocket
fees impact cash flow. On the payables side, it can be hiring and retaining staff, keeping up inventory, or
simply unexpected expenses. While new technology keeps you competitive, improves efficiency, and
opens the door to new services, it can increase operating and capital expenses.
Over 6,500 physicians use GoCheck Kids photoscreener to detect vision problems early while
they can still be treated. With more than four million patient screens conducted using our
technology and smartphones, GoCheck Kids has proven to be a game-changing tool. Our all-
inclusive subscription pricing is a game-changer too.
GoCheck Kids users gain access to the latest photoscreening technology and services without a capital
outlay. By providing the necessary equipment, there's no need to worry about asset depreciation, disposal
costs, or even the maintenance of physical assets. Capital funds can be focused on other growth and
revenue-producing initiatives.
Predictable monthly payment
Not only do we ship the GoCheck Kids smartphone needed, but you get unlimited screens at a low
monthly rate. Ongoing costs are predictable, with no unexpected expenses, so you can more effectively
budget and manage cash flow.
Without the need for capital investment, physician offices, healthcare clinics
, schools, and Head Starts
have freedom
—
the freedom to test and try new technology and without an up front expense. GoCheck
Kids photoscreeners are easy to scale. Take advantage of changing market conditions or business needs
by quickly adjusting the numb
er of devices you use.
Automatic updates
Automatic, remote software updates
(with no downtime)
ensure
you always have access to the
latest features. Stay ahead of the
competition with
regular updates that follow AAP, AAPOS,
and AAO guidelines.
You don't need to buy a photoscreener for thousands of dollars only to see
it become obsolete in a few years.
Another key advantage of GoCheck Kids' photoscreening subscription pricing is all that our
screening platform offers: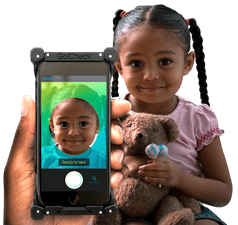 • A cloud-based administrative portal
• Two-way EHR integration
• Easy network standardization
• Healthy ROI (99173, 99174, 99177 billable CPT codes)
• Reporting and analytics
• Reimbursement support
• Implementation support
• First 90 days of image review
• Self-service and online training tools
• Bulk patient upload to device

Simply powerful tech without the big price tag
Learn more about the many benefits of GoCheck Kids' subscription pricing and what it can mean for your