7 Screenings Every Pediatrician Should Be Doing
Mar 23, 2023, By: GoCheck Kids Marketing
Annual wellness visits are essential for children and adults to live happy, healthy lives. Screenings are an
invaluable part of these check-ups. They detect potential health problems that can be corrected or
treated if found early. There are seven evidence-based screenings that every pediatrician should be
familiar with and implement. Through these specific screenings, pediatricians can diagnose, treat, or rule
out potential health problems that could be irreversible later.
1. Developmental Screening
Developmental screenings at nine, 18, and 30 months are vital in detecting mental deformities, cerebral
palsy, and autism spectrum disorder. According to the American Academy of Pediatricians (AAP), 15.04%
of children are affected by some developmental disorders. Children shown to have a developmental
disorder will be referred to specialists and receive treatment.
2. Depression Screening
According to the AAP, major depressive disorders affect as many as 20% of all teenagers. Screening for
mental disorders can detect patterns regarding feelings and will allow a pediatrician to refer a child to a
mental health expert. The AAP recommends that children are screened for mental health disorders
beginning at age 12.
3. Vision Photoscreening
Photoscreening is one of the most critical developmental screenings for a child. Photoscreening detects
risk factors for amblyopia and other preventable vision disorders. The AAP recommends photo screening
from ages 1-3 or until visual acuity can be detected directly. GoCheck Kids aids in helping pediatricians
screen for vision disorders and will help the child treat preventable vision problems. Schedule a demo and
learn how you can implement photoscreening into your workflow.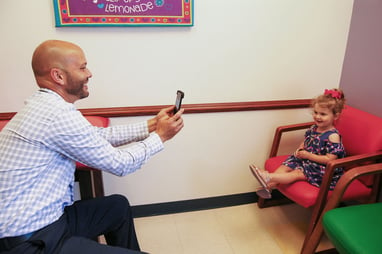 4. Hearing Screening
Early and ongoing hearing screening is critical for a child's development. AAP recommends that all
infants be initially screened by one month of age. Regular screenings should be part of well-child visits at
9, 18, and 24 to 30 months of age. Children need to be screened through adolescence at ages 4, 5, 6, 8,
10, 12, 15, and 18.
5. Maternal Depression Screening
As many as 70 to 80% of women will experience some level of postpartum depression. Postpartum
depression is a depression new mothers experience after giving birth. Symptoms include a loss of
appetite, difficulty bonding with the baby, irritability, and insomnia. The AAP recommends that mothers
of children 1-6 months old be screened for postpartum depression.
6. STI and HIV Screening
The AAP recommends screening for chlamydia, gonorrhea, human papillomavirus, and syphilis beginning
at age 11. Along with these, HIV should be a prevalent screening step for children at age 11. One of the
reasons it is essential to screen for these health conditions is that most children exposed to sexual abuse
don't report incidences. To prevent lifelong complications from sexual diseases, it is incredibly important
to treat the conditions as early as possible.
7. Body Mass Index Screening
Body mass index screening will screen children for excess weight and obesity, which affect roughly 17% of
all children. Obesity in children causes immediate health risks. Complications like joint problems, high
blood pressure, breathing problems, and fatty liver can all lead to difficulties in the child's everyday life
and the future. Obesity in adults can lead to heart problems, liver problems, type 2 diabetes, and cancer.
Children need to be screened and referred to a nutritionist to help them prevent weight problems.
Screening tools are widely available, yet many affected children go without them and miss out on vital
early interventions that offer long-term benefits. Are you using all seven screenings? Begin adding them
to your wellness visits now, and learn more about photoscreening by scheduling a demo today.