An easy way to detect pediatric vision problems early
Dec 5, 2022, By: GoCheck Kids Marketing
Being able to screen children who are not yet able to use an eye chart is crucial in identifying
problems early and starting treatment that, if not initiated, could result in permanent vision loss.
--
Lisa M. Pepka
, MD,
pediatrician,
Phoenix Children's Pediatrics
Dr.
Pepka
was inspired to go into medicine early. Her father was a pediatrician, and she helped
care for her grandmother.
A
n
Arizona native
, Dr. Pepka
attended the University of Arizona
College of Medicine and completed her residency at Phoenix Children's Hospital/Maricopa
Medical Center.
She was drawn to Phoenix Children's
by its
collaborative spirit
.
Phoenix Children's
is one of the nation's largest pediatric health systems
,
provid
ing
inpatient,
outpatient, trauma, emergency
,
and urgent care
.
It includes
Phoenix Children's Hospital, four
pediatric specialty and urgent care centers, 11
community pediatric practices,
20 outpatient
clinics, two ambulatory surgery centers
,
and seven outpatient clinics
.
Quick results
with a
simple
yet innovative vision screening solution
Alma Cruz
worked with Dr. Pepka at
Phoenix Children's
Pediatrics
,
and her three children
love
"Dr. Lisa."
During
18
-
month
-
old
Alyssa's
well
-
child exam, Dr. Pepka
used the
GoCheck Kids
photoscreener
solution
for
a routine vision screening.
The
software
immediately alerted Dr.
Pepka to a
potential issue
.
A referral to
Phoenix Children's ophthalmologist
Dr. Elyssa
Rosenthal
confirmed
astigmatism.
Now wearing her first pair of glasses,
Alyssa
enjoys
see
ing
her loved ones more clearly.
Knowing that astigma
tism can be heredity, Alma
immediately scheduled a comprehensive eye
exam for
her seven
-
year
-
old daughter
, Angelina
. That exam discovered she
,
too
,
had
ast
igmatism. Alma
realizes
that if Angelina had had a
GoCheck Kids
vision screening when she
was Alyssa's age, her astigmatism could have been addressed
years
earlier.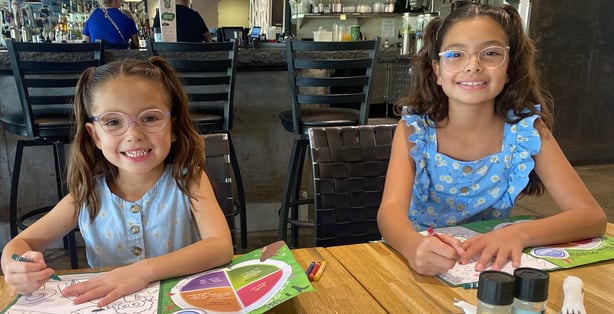 A children's eye care solution before they're ready for the wall chart
The traditional eye chart is an effective tool. But, for very young children who can't use one yet,
a photoscreener is an ideal option.
GoCheck Kids
is t
he leading digital vision screening platform
for children
. The
iPhone
-
based screener
ensures
the process
is
easy and unintimidating
to use
during a well
-
child visit
, and the
technology
easily integrates with EHR software.
T
he GoCheck Kids screener detects myopia, hyperopia, a
nisometropia
, o
cular
m
isalignment
(s
trabismus
), and a
stigmatism
. An ophthalmologist reviews the results if the device picks up an
issue during an exam. If they agree with the findings, the patient is referred for additional testing
and treatment when needed.
As Dr. Pepka explains,
"GoCheck Kids removes barriers and
enables providers to conduct
vision screenings on pediatric patients and immediately alert families to potential vision issues
."
Learn more
about Phoenix Children's Pediatrics
experience with GoCheck Kids.
Improved outcomes, efficiency & revenue
With
GoCheck Kids
, physicians can conduct vision screening tests for patients too young for a
visual acuity test. This digital vision screener is
used by over 6,500 pediatric teams
across
some of the most trusted child
ren's health systems.
The lightweight, wireless smartphone design makes GoCheck Kids easy to use. And it saves
time for clinical staff. One health system
eliminated 1,310 hours of administrative time a year
by integrating GoCheck Kids with Epic.
GoCheck Kids is the only screener that qualifies for visual acuity and both photoscreening
codes. It's the most affordable screener,
reducing the cost by over 50%
by leveraging the
iPhone's advanced technologies.
There are no upfront costs to pilot GoCheck
Kids.