Photoscreening Reimbursement
Reimbursement potential for the photoscreening procedure is counterintuitive because insurance coverage varies widely and depends on patients' individual contracts with the insurers.
The GoCheck Kids pricing structure provides an economical entry for photoscreening, a test now recommended by the American Academy of Pediatrics (AAP) beginning as early as 1 year of age.¹ This pricing structure may allow practices to photoscreen all children, regardless of coverage.
We hope this page provides clarity regarding the economics of photoscreening so you can detect amblyopia risk factors in patients too young for a visual acuity test.
Background
The AAP and American Association for Pediatric Ophthalmology and Strabismus (AAPOS) recommend annual instrument-based photoscreening starting between 1 and 3 years old.1
GoCheck Kids is a Class II 510(k) exempt FDA device as a mobile vision screener that complies with 21 CFR Part 820 and meets the AAP's definition of an "instrument-based photoscreener."
The U.S. Preventive Services Task Force (USPSTF) recommends vision screening for all children at least once between the ages of 3 and 5 years, to detect the presence of amblyopia or its risk factors.2
Photoscreening CPT Codes
Two procedure codes describe instrument-based photoscreening:
Instrument-based ocular screening (e.g., photoscreening, automated-refraction), bilateral; with remote analysis and report.
Includes the ocular screening images captured in the office being secured and transmitted to a remote facility via electronic transfer for analysis, as well as the remote compilation of a report and findings.
Instrument-based ocular screening (e.g., photoscreening, automated-refraction), bilateral; with on-site analysis
GoCheck Kids may qualify for either screening code, depending on payer policy.
Determining Amount
The most effective way to determine whether either code is applicable is to inquire directly with the payer.
Contacting your provider relations representative or conducting an online code inquiry will help you determine whether they have a coverage policy reflecting one or both codes.
Medicaid may pay for the service but this varies by state.
We Can Help
When it comes to meeting AAP guidelines and filling care voids, many pediatricians feel stuck due to high device costs and cumbersome workflow requirements. GoCheck Kids helps pediatricians detect vision issues at a low cost and with easy deployment so their patients don't lose their vision or experience reduced developmental milestones.
You can try GoCheck Kids totally risk-free to validate that reimbursement amount and device workflow fit your practice.
Have Reimbursement Questions? Call us right now at 877-781-6466 and we'll get it sorted out for you.
What pediatric leaders are saying about GoCheck Kids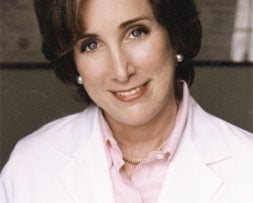 NY Presbyterian – Columbia University Medical Center
"You can't beat GoCheck's ease of use and friendly economics. I highly recommend vision screening with GoCheck Kids."

Dr. Pamela Gallin – Pediatric Ophthalmologist
Pediatric Physicians
"Reimbursments are more than adequate to cover the solution's costs and nurse's time."

Dr. Roy Benaroch – Pediatrician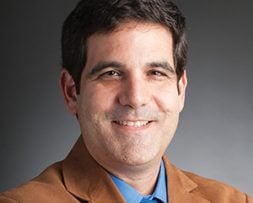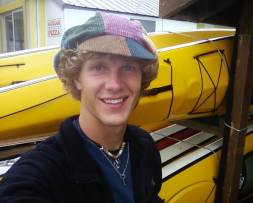 Anchorage Pediatric Group
"We love how it doesn't require any upfront costs. They've build their pricing and whole model around the needs of pediatric practices."

Brice Alexander – Medical Practice Administrator


Mia Bella Pediatrics
"We looked at other higher-cost, single-purpose screeners, but they did not make economic sense. Instead, with GoCheck Kids we were provided the photoscreener at no cost to the practice, and avoided the burden of added equipment costs that the other screeners required."
Dr. Suzy McNulty – Pediatrician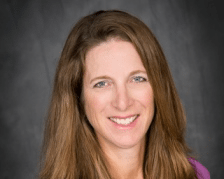 Photoscreening is easy with GoCheck Kids
1
Enter or Find Your Patient
You can enter patients on the phone in real-time or add patients in bulk on the desktop web portal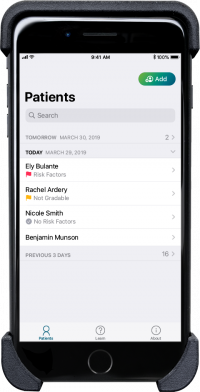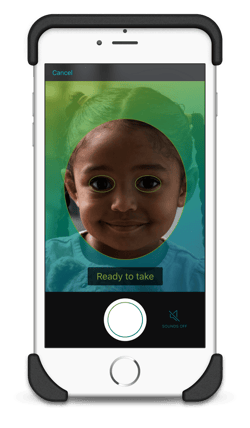 2
Take a Photo
Select photoscreening test. Line up the circles with your patient's eyes and take the picture.


3
Get Instant Results & Send to EHR
Get results on the app instantly or view results later in the web portal. Send directly to your EHR.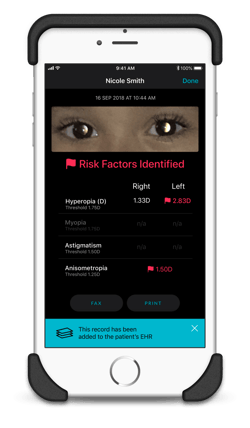 Get More Info
Thousands of providers have made the commitment
to detect amblyopia risk factors with GoCheck Kids.