Pediatric Vision Screening Doesn't Have to be a
Loss-Leader
Pediatric care organizations are experiencing a 3-10x ROI screening with GoCheck Kids. We ship you iPhones. Our technology and clinical experts ensure success.
Protecting Kids from Preventable Vision Impairment and Blindness With:





Broadly reimbursed with CPT Codes 99173 (Visual Acuity), 99174, and 99177 (Photoscreening)
The only screener that qualifies for both photoscreening codes
No capital expenditure means low barrier to entry
Configurable pricing to provide the most value to your pediatric network
Get Your Configured Proposal
GoCheck Kids vs. Other Screeners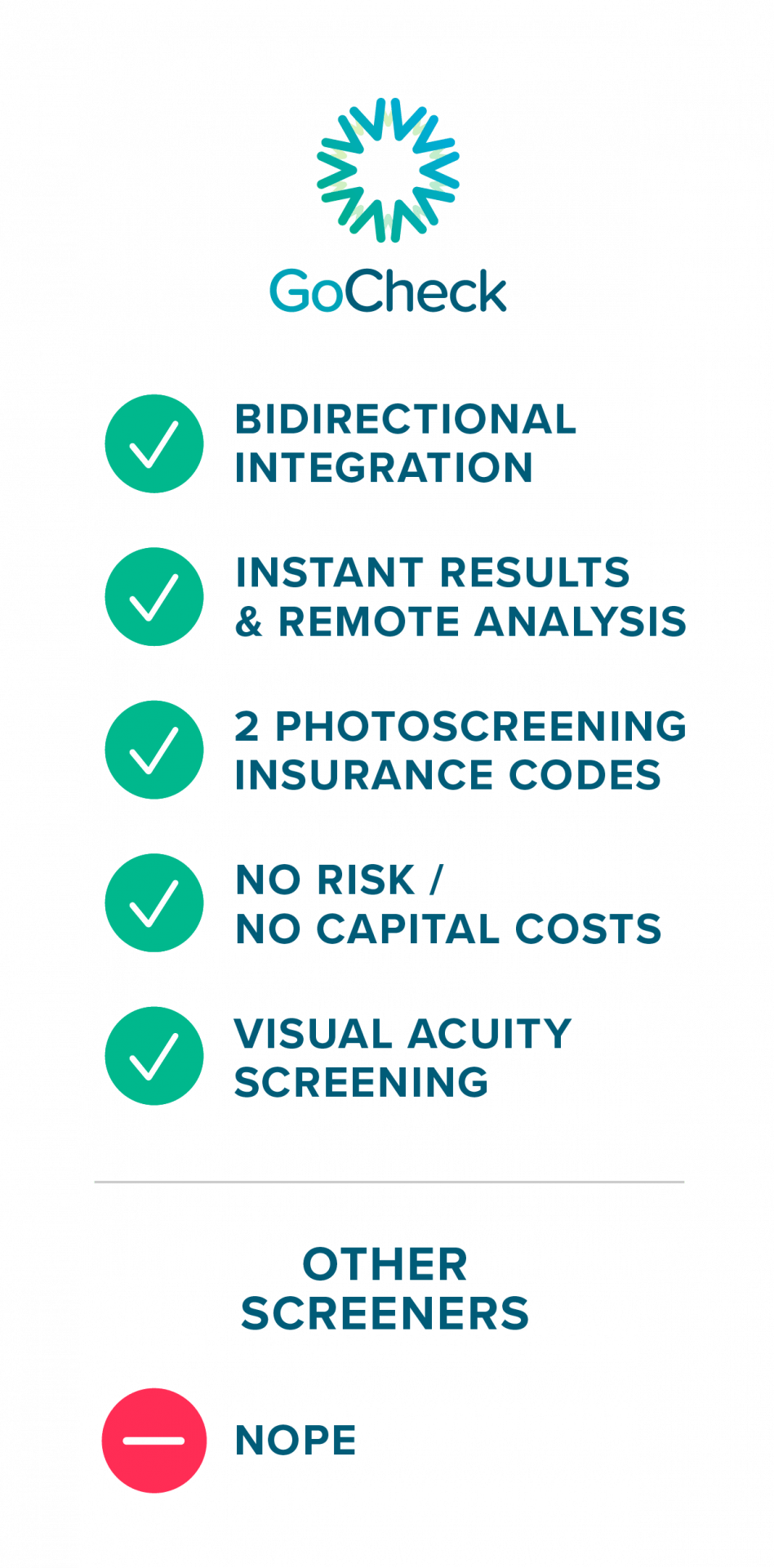 "In our primary care practices, we've found that when we bring together clinical quality and advanced technology, we can deliver state-of-the-art healthcare more efficiently to reduce friction and create a better patient care experience. GoCheck Kids is doing that with a solution that provides exceptional clinical results with a high return on investment."
Dr. Jonathan Miller, Medical Director of Value-Based Care
Nemours Children's Health System
The World's Only Pediatric Vision Screener with Bidirectional EHR Integration


Already screening? Contact us to see how much administrative burden you can reduce with bidirectional integration.
"We explored a few options but picked GoCheck Kids because it produces immediate results, is easy to use, and is the most cost-effective option."
Dr. Jason Terk, Pediatric Leader
Cook Children's
Is GoCheck Kids Reimbursed?
Yes. It is commonly reimbursed under two photoscreening CPT codes, 99177 or 99174, and one visual acuity CPT code, 99173.
Do I Have to Purchase iPhones?
No. We provide the iPhones which means you do not have to undergo a capital expenditure or take on large risk.
Networks and groups are experiencing a 3-10x ROI. Fill out the form below to get your configured proposal today.